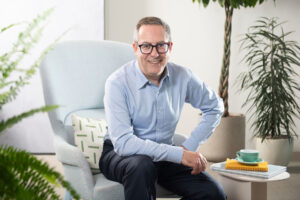 Announcing the appointment of Chris Miller-Jones to the newly created role of ESG Director, strengthening the business' sustainability capabilities
Europa Capital, the pan-European real estate investment manager, announces that it has bolstered its Sustainability & Development team with the appointment of Chris Miller-Jones to the newly created role of ESG Director. This appointment further strengthens the business' sustainability capabilities in line with its strategy of becoming carbon neutral across its operational direct real estate portfolio and corporate emissions by 2030, and its non-direct emissions by 2040.
Based in London, Chris will be responsible for managing Europa Capital's sustainability goals and objectives, with oversight of the risks and impacts of sustainability initiatives on portfolio and asset performance, as well as across all funds and business lines. Reporting to the Head of Sustainability & Development, Lynn Smith, Chris will collaborate internally and externally to help implement and embed the vision, approach and delivery of Europa Capital's sustainability strategy.
The role will also see Chris working closely with colleagues to facilitate improved understanding and integration of the sustainability agenda and Europa Capital's policies in respect of investment decisions throughout the investment lifecycle, covering both risks and opportunities.
With nearly 25 years of experience in the sustainability sector, Chris joins from BWB Consulting where he spent the past two years supporting the development of the company's ESG strategy and its commitment to net zero. Prior to joining BWB Consulting, Chris has worked for a number of leading sustainability advisory firms including Arcadis, WSP, ERM and KMPG.
Chris holds a Bachelor of Science in Environmental Science from Leicester University and a Diploma in Environmental Management for Business and Commerce from Sheffield Hallam University.
Rob Sim, Managing Partner at Europa Capital, commented: "Sustainability is an essential part of our business, and we are committed to this as demonstrated by our pathway to Net Zero. Chris brings a wealth of experience, having worked on a number of real estate transactions in his career. His appointment builds on our capabilities across ESG as a multi-disciplinary business that strives to deliver investment excellence and a positive impact for our clients."
Chris Miller-Jones, ESG Director at Europa Capital, added: ""I look forward to further developing Europa Capital's sustainability strategy, building on the momentum already underway to strengthen performance, deliver for clients and help the Company to achieve its net zero ambitions."