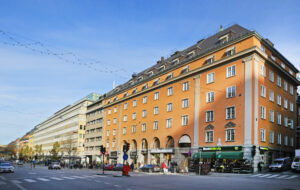 Serviced office provider, IOFFICE, takes 5,720 sq m on a 10-year term
Europa, a pioneer in pan-European real estate investment has agreed a new 10-year lease with serviced office provider, IOFFICE, for the entirety of the 5,720 sq m of newly refurbished office space at 32-36 Sveavägen in Stockholm, Sweden.
Europa, with local partner, NCAP, is currently undertaking a comprehensive refurbishment programme at 32-36 Sveavägen on behalf of Mitsubishi Estate London, targeting an improved sustainability rating of BREEAM 'Excellent' and WiredScore 'Platinum'. The building will serve as IOFFICE's flagship in Stockholm, offering highly flexible and modern office space across 10 storeys, as well as a gym and café. IOFFICE will occupy the building in 2024 once the works have completed.
The building is strategically situated in the heart of Stockholm's central business district, benefitting from excellent transport links including the nearby Hötorget Metro Station.
Rob Sim, Managing Partner at Europa, commented: "This office letting is one of the largest in Stockholm this year, which is a strong vote of confidence in the quality and location. The stabilisation of this asset is aligned to Europa's investment approach and despite macro-economic headwinds, enables us to be well positioned to continue protecting our clients' and their client's capital. IOFFICE is a solid occupier and is in an excellent position to benefit from the recent shift in occupier demand, leveraging their expertise in the Stockholm market as companies seek more flexible lease terms with serviced office providers. We look forward to welcoming IOFFICE to the building."
Shinichi Kagitomi, Managing Director & CEO at Mitsubishi Estate London, added: "This deal is further evidence of continued occupier demand for prime office buildings, in the best locations, with a strong amenity offering and sustainable credentials. This is a flagship retrofit office project in a market where quality space remains in short supply and we are pleased to have secured an innovative sole occupier, which will deliver an exceptional collaborative space for a variety of businesses."
Homan Tehrani, CEO at IOFFICE, added: "We are looking forward to establishing ourselves at Sveavägen 32-36. It is a strategic decision from IOFFICE's side to develop offices that are both innovative and flexible, taking into account the needs of both current and future tenants. This property will be our flagship in Stockholm, and we are raising the bar significantly by offering more amenities for our customers, including a gym and café. Putting our customers first is the core of IOFFICE's business model, and I am convinced that this is a winning concept."
John Routledge, Partner at NCAP, added: "We are very pleased to welcome IOFFICE to the Grace project and Sveavägen 34. We are happy to have found a partner who shares our vision and the office will be a fantastic new meeting place for companies that will be able to continue building on the property's creative history."
David Nilsson, Head of Leasing at JLL, added: "We congratulate both tenant and property owner on a good deal and we thank both parties for their cooperation."
Europa was advised by JLL.
---