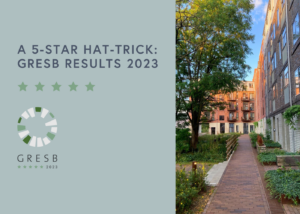 Three Europa funds have achieved 5-star ratings in this year's GRESB Real Estate Assessments. This reaffirms their commitment to long-term value-creation for Europa's clients and their clients' stakeholders, through embedded ESG consideration.  
It's is the 10th year in a row Europa has been recognised by GRESB. 
"These excellent GRESB results reflect the importance we place on integrating sustainability principles into our investment and asset management activities. Achieving the top ratings through such a robust benchmarking exercise is no small feat and is testament to the consistent work of our team and partners. Embedding Governance and ESG practices – such as green building certification, social engagement, and data monitoring – across our portfolio is key to delivering long–term value and resilience for our investors."
---
The results
5-Star ratings:
•  Europa's core fund (Europa Diversified Income Fund – EDIF) awarded 5 green stars for the first time, following year-on-year improvements
•  Europa Generation Student Fund retained its' 5 green stars
•  Europa Value Add Fund V awarded 5 green stars in the development benchmark
Peer group leaders:
  •  Europa Generation Student Fund ranked as Peer Leader for UK Residential: Student Housing, Non-listed for the second year running 
  •  EDIF ranked as Peer Leader for Western Europe, Diversified, Core, Tenant Controlled 
---
Tim Turnbull, Fund Manager for the Europa Generation Student Fund comments: 
"A huge thank you to all involved for contributing to the fantastic result again in this year's GRESB benchmarking. Although GRESB scoring requires environmental efficiency in the fund's underlying buildings, it also places a strong focus on the effectiveness of our sustainability policies, a key factor for driving performance. I would especially like to thank our on-site teams for their hard work and making our buildings wonderful communities to live in."
Andy Watson, Fund Manager for the Europa Diversified Income Fund (EDIF) adds:
"Sustainability is naturally important for our core fund, EDIF, to preserve long-term value. EDIF has improved its GRESB rating for the fifth consecutive year, which is the result of Europa consistently embedding ESG considerations into every stage of EDIF's property decisions, from due diligence to acquisitions, leasing and asset management."
Looking ahead
Europa is well-positioned to build on these positive results, with its distinctive investment approach. This multi-discipline, team-based approach seeks to identify value through the careful assessment of asset-specific risks across a range of factors, including ESG. 
Throughout the cycle and whatever the prevailing market conditions, Europa maintains that sustainable practices continue to offer enhanced long-term value and protection for clients' investment interests.   
The Europa team is well placed to continue implementing its robust approach to sustainability-related risks, as we look forward to 2024 and beyond.